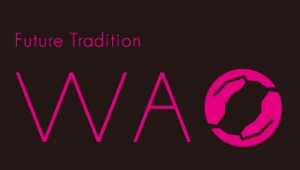 Future Tradition WAO, produced by Fashion Journalist Yoshiko Ikoma, is showcased at the Musée des Arts Décoratifs in Paris, France from March 4th to March 6th, 2012.
"WAO" is a combination of two Japanese words; WA (和) + O (生), which stands for "the rebirth of Japan" and also represents the word "WOW". This exhibition will signify the merging of New World and Old World methods to include "future tradition" products created through collaboration with well-known designers, producers and leading brands. The project represents a new world of Japanese craftsmanship and a movement to introduce the arts and crafts of the 21st century.
The project "Future Tradition WAO" is organized by METI (Ministry of Economy, Trade and Industry) , and is positioned as a commissioned project to support "Japan Branding (COOL JAPAN)" promotion in overseas markets through Japanese crafts and culture, and to market these products to the world.
In line with its purpose, the exhibition will showcase approx. 150 future-looking craft works of three categories; Collaboration Handicrafts, Curators-selected Handicrafts, and Future Tradition Handicrafts. Collaborations with well-known brands such as Baccarat, FENDI, LOUIS VUITTON, and Pierre Cardin are highlighted in the exhibition, while future tradition works that are rooted in Japan's traditional craftsmanship technique and embody the "COOL JAPAN" concept are exhibited in the city of Paris first time. These 150 items are carefully selected by the WAO selection panel of 14 first-class artists and creators, out of 1,300 entries from all over Japan.
DATES
March 4 (Sun): 10:00am – 6:30pm
March 5 (Mon): 9:30am – 6:30pm
March 6 (Tue): 9:30am – 6:00pm
Source: WAO