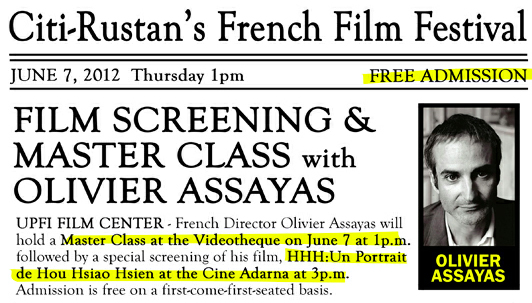 On the occasion of the 17th edition of the French Film Festival presented by the Embassy of the Republic of France highlighting a retrospective in his honor, acclaimed auteur Olivier Assayas visits the UPFI Film Center for a master class at the Videotheque followed by a special screening at Cine Adarna on Thursday, 7 June 2012.
Master class starts at 1 p.m. with the premier state university's film majors and other interested participants from the professional film community.
Screening at 3 p.m. hallmarks "HHH, Un Portrait de Hou Hsiao Hsien" – the master filmmaker's profile of one of the leading players of Taiwanese New Wave. A great connoisseur of Chinese cinema, Assayas has known Hou Hsiao Hsien since 1984 and is credited for bringing Chinese cinema to Western attention.
Admission for both master class and special screening is free on a first-come-first-seated basis. The UPFI Film Center is on Magsaysay corner Osmena Avenues, University of the Philippines Diliman. For details, please call 9262722 or go to http://filminstitute.upd.edu.ph/
Source: UPFI Film Center