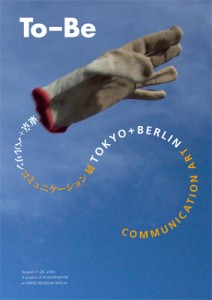 Tokyo+Berlin (To-Be), a multi-disciplinary exhibition on Communication Art will take place from 7–29 August 2010 at the Freies Museum Berlin. It will highlight works by 28 artists from Japan and Germany, who research spheres of common ground in the «Being and Becoming» in both cultures.
To–Be is a joint venture based on an open-minded concept by the artists Tatsumi Orimoto and Thomas von Arx. The exhibition is a collective working process between the artists without any instructions from a curator, to create space for developments and conversations reaching beyond the scope of an exhibition. The starting point of this project was a gathering of 19 younger and more experienced artists in the summer of 2009 in Tokyo who portrayed renowned and emerging positions. The project gains a remarkable dynamic through the conjunction of very differently inspired societies and their individual perceptions of art. Art as a communication-engine is in this sense connecting and moving independent strategies of exchange and relations.
This activating process is an essential aspect of the exhibition: creating an artist-driven «open stage», that allows and develops inspiring collaborations between cultures, the arts, the artists and the audience. For this project the artists from Japan and Germany will get together in Berlin for two weeks in August. The opening of this exhibition will be celebrated with a program of various performances.
 Several art works will still be developed throughout the first week of the exhibition. Each morning at 10 o'clock Midori Mitamura will welcome visitors to the «Never Ending Breakfast» (8 – 15 August), which will be the base of the work she creates. Tamaki Kawaguchi will produce her piece «Painting a bee by a bee for 5 days» beginning on 8 August in the courtyard of the museum inside of a glass cube (see also program).
 All 28 artists will be present at the opening event. Guided tours for groups are possible by appointment. The project is in co-operation with Kunstfaktor e.V., Art Mama Comp any Tokyo and Freies Museum Berlin and takes place under the patronage of the Embassy of Japan in Berlin. To–Be has been supported by Pola Art Foundation, Japan Foundation and Nomura Foundation. For this exhibition a large catalogue will be published by Bruno Dorn verlag.