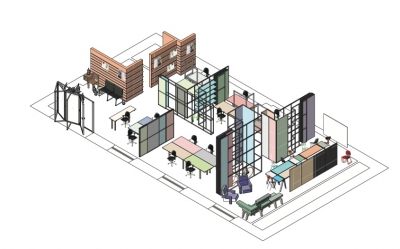 The Dutch Design Workspace India is a home base for Dutch designers and design companies wanting to establish themselves in India, and the first point of contact for Indian designers and organizations who want to connect with design, fashion and architecture from The Netherlands.
The Workspace is located in the creative hotspot of Parel in Mumbai and opens officially on 5 February 2012. Designers and design companies in the Netherlands can now apply for rental of desk and event space.  Dutch designers and design companies from within the disciplines of design, fashion and architecture are invited to apply.
The aim of the Dutch Design Workspace India is to strengthen the connection between the design fields and communities in both countries and support the spirit of entrepreneurship between both cultures. It is operational starting January 2012 and consists of workstations, Design Desk consulting services and a space for organizing and hosting design events. The Workspace is designed by Studio Makkink & Bey.For the interior, furniture and lighting by Dutch designers and design manufacturers are combined with spatial elements that are locally hand-made.
Work spaces
Workstations form part of a fully-equipped shared office space and can be rented for short and long term use. Designers can plug in and work, and make use of communal facilities like the meeting room, reception and a cross-cultural library about Dutch and Indian design. The cross-disciplinary programme will facilitate a working environment where designers from the different fields can support and learn from each other.
Business support
Dutch designers setting up in India will receive business support that has been specifically tailored to the local context. A design desk for hosting matchmaking activities between Dutch and Indian design companies will be a permanent feature of the Workspace. Support includes introduction to local networks and potential clients, advice about practical issues like company registration or cultural do's and don't's and assistance with exploring production possibilities. Advice can form part of a basic package or be customized according to a designer's specific need.
Event space
The multi-functional space is suitable for hosting diverse events, spanning the three disciplines, for professional designers, design companies or educational institutions and organisations. Events include lectures, exhibitions, presentations, workshop sessions, meetings, drinks, launches and design debates. This multi-disciplinary programme of activities will keep the space active alongside a changing exhibition about Dutch and Indian design.
India Calling
For more information on about the Dutch Design Workspace MumbaiIndia, please contact: WorkspaceIndia [at] dutchdfa.nl
The programme follows the success of the Dutch Design Workspace Shanghai launched in 2010.